"Your living space is like a luminary canvas, and as such, should be illuminated properly, and adorned with luminaries that declare your life's quality, aesthetics, and what you hold dear." MC Felk
Since 1993, MC Felk Lighting & Design, Shoptin has established a national standard of excellence in the Design & Facilitation of superior warranted for life specialty custom design lighting products and services.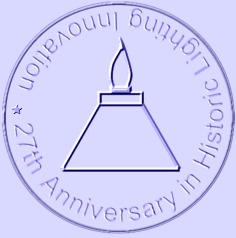 Principle & Designer:
Michael C. Felk, brings over 28 years of professional experience, and practice in the field of Handcrafted Historic Lighting Fixture Design and Custom Lighting Fixture Package Fulfillment and supporting services.
He holds degrees specific to Manufacturing & Electrical Technologies and has designed and engineered over 700 Luminary devices for both Historic Residential and Commercial applications, with included continuous training on vendor lighting products and controls.
What makes the difference, why seek MCFelk L&D?
Over the years failures have increased without empathy regarding the end users requirements in meeting the exact Lighting Fixtures desired by the square peg round hole concept be they online or with traditional store front supplier resources. Observing this continuum one concludes that the focus should be getting it right the 1st time guaranteed. That means photometrically designing a light fixture to the space it accommodates, building to fit, observing architectural and or human likes and dislikes, thus creating the outcome that accomplishes the unimaginable.
Review our sampling of small to large lighting project successes & services to confirm your confidences, and include us in your pending, or current project!